BOB-CAT Boss-Vac Overview
BOSS-VAC™ Collection Systems
The new BOSS-Vac™ Collection Systems are designed to be used on BOB-CAT's Predator-Pro, ProCat, FastCat Pro mowers and they provide improvements in performance, durability and overall usage.
The BOSS-Vac Collection Systems are equipped with a large, durable blower fan and a molded high-density polymer grass tube, features not found on all competitive units in this class range.  These high-power, clog-reducing components save you time and leave lawns looking like a freshly vacuumed carpet.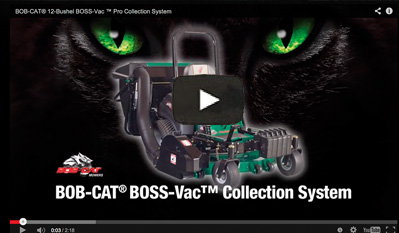 The BOSS-Vac has a new front counter weight system utilising suitcase weights that are easily removed without the use of tools. This design puts the weight where it is most effective without blocking your sight line to the front of the deck.
The unit's quick disconnect bumper mount permits the operator to easily and quickly attach or disconnect the collection system from a simple bumper hitch using existing holes in the mower's bumper.
 
Home
Platform
Home Owner & Acreage
Professional Mowers
Videos
Contact Us
Search