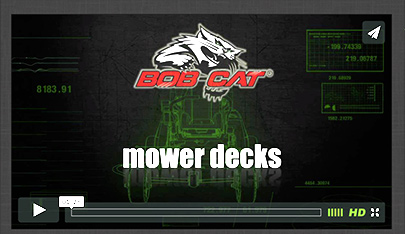 A Quality Cut Every time with TufDeck™
The rugged design of the new BOB-CAT® TufDeck™ Professional-Grade Mower Deck with patented Double-Wave Baffle System makes grass stand up and take what's coming to it from blades that spin up to 18,800 fpm.
An extra-wide polymer impact resistant discharge chute shrugs off dings while fanning clippings fine - eliminating clumps for a crisp clean cut. Choice of 48-, 52- or 61-inch decks.
Mow with Confidence Warranty!
6-year / 600 hour  warranty - XRZ
6-year/1000 hour warranty - XRZ Pro
BOB-CAT XRZ - Acreage Owner

Bred to be in a class all its own, the new BOB-CAT® XRZ™ is packed with premium performance and comfort features that rival commercial mowers.
Comfort & Control
Designed with your comfort in mind, the new BOB-CAT® XRZ™ features a premium high back elastomeric vibration control (EVC) seat with armrests that reduce vibration for all-day riding comfort. Wide 22-inch rear drive wheels help smooth the ride over undulating terrain and provides added traction on slopes. Cutting height can be easily controlled on-the-fly with the quick-lift foot pedal allowing for cutting ranges from 1.5 to 4.875 inches in quarter-inch increments or instantly as needed.
Reduced Maintenance
The XRZ's open frame design provides easy access to the engine, filters, belts, battery and more – taking the hassle out of routine maintenance. Flip up foot plate allows for easy access to belts and pulleys for cleaning and service. And, because all BOB-CAT® mowers share a common design, parts are readily available and affordable too.
Peak Productivity
The new BOB-CAT® XRZ line is powered by reliable Kawasaki® FR engines and commercial drive system powered by Hydro-Gear® ZT-3100 transaxles to produce a ground speed of up to 8 mph. Coupled with a large 6 gallon fuel capacity fuel tank, you have more than enough power and run time to tackle the largest properties.
 
BOB-CAT XRZ Zero Turn Mower Specifications
Home
Platform
Home Owner & Acreage
Home Owner's CRZ
Acreage XRZ
Professional Mowers
Videos
Contact Us
Search